Spend an Out-of-This-World Weekend at Oregon's Offbeat UFO Festival
Whatever you think your spring travel plans are, cancel them. Pack an out-of-this-world costume. Then boldly go where many have gone before: McMinnville, Oregon.
Even on a regular weekend, this laidback Willamette Valley town is a worthwhile getaway. An hour southwest of Portland in the heart of Oregon's charming wine country, there are vineyards for biking through and tasting rooms for sampling their famous terroir-driven Pinot Noir. There's a walkable, Rockwellian downtown lined with maple trees where you can catch a movie in a theater tucked inside of a pizza shop (sure, take your slice in with you), or duck into a store that specializes in artisanal jam. There's also the Evergreen Aviation & Space Museum, home to Howard Hughes's massive wooden Spruce Goose, and the adjacent Wings & Waves Waterpark, with a real retired Boeing 747 aircraft on the rooftop sprouting slides like tentacles.
And for one very special weekend each year since 2000, there are aliens. McMinnville's population swells as thousands of ETs, Wookies, Yodas, Coneheads, astronauts, and even the family from 3rd Rock from the Sun all show up for the annual McMenamins UFO Fest, the largest of its kind outside of Roswell, New Mexico. This year, the close encounters are going down on May 19 and 20.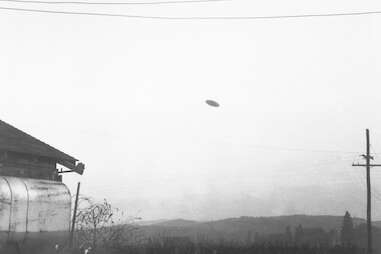 Base camp for the event will be McMenamins Hotel Oregon, built in 1905 and boasting a rooftop bar with 360-degree views—perfect for spotting flying objects. And you may actually see one, because unlike some of those other UFO festivals out there, McMinnville's is inspired by an actual 1950 sighting when farmers Evelyn and Paul Trent took what is now the most famous photographic evidence of a hovering UFO. The photos made national news and were even published in Life magazine.
"It's one of the only UFO sightings in the United States that the government wasn't able to debunk," says Dani Chisholm, district manager for McMenamins Historic Hotels, the hospitality group that oversees Hotel Oregon. Over her 17 year-tenure, she's worked 14 UFO Fests. But it's not because she's particularly enthusiastic about the extraterrestrial world—at least not initially. "My first year at the job, I had no idea what [the festival] was," she says. "I was not a believer in the beginning. I actually thought it was kind of weird how serious people took it."
"I feel like there's more people that I've talked to that are less skeptical now than when I first started"
The past seven years she's taken on a more intensive role in the festival co-planning the speaker lineup, which is held in the hotel. And she says immersing herself in all things UFO has done much to alter her opinion on whether or not the truth is out there. "Listening to the speakers and meeting people, it's hard not to believe that there's some validity to what they're saying," she says. "Even though sometimes, it's pretty way out there."
Chisholm's evolution is becoming familiar these days. "I feel like there's more people that I've talked to that are less skeptical now than when I first started," she says. During the fest's first year, there were just a couple of experts on the lineup; today, the McMenamins UFO Festival is one of the biggest of its kind in the country. It helps that acknowledging the possibility of alien life is no longer as taboo as it once was. "I think as you see more and more things in the news, these types of activities or events are becoming more popular," confirms Chisholm. "People wanna hear firsthand what's going on."
For the festival's 20th anniversary in 2019, even a few US military pilots came through, presenting photographs of as yet unidentified objects they had taken during their flying missions. President Barack Obama has confirmed similar happenings. And each year brings new fodder for discussion, like the recent Pentagon draft on extraterrestrial visitation. Says Chisholm, "We've had a lot of talks about the 'Men in Black' and how they are real—it's not just a movie."
This year's speakers include Sev Tok, the author of You Have the Right to Talk to Aliens and a person who's been privy to a couple of ET encounters herself; Mutual UFO Network's chief field investigator and state director of Southern California, Earl Grey Anderson; UFO contact researchers Cheryl and Linda Costa, co-authors of UFO Sightings Desk Reference: United States of America 2001-2020; and alien abductee Travis Walton, who wrote about his experience in the book Fire in the Sky, later adapted into a 1993 movie of the same name.
Also on the schedule? A live podcast recording of Into the Parabnormal with Jeremy Scott, where the eponymous host interviews some of the key speakers, plus live music, an alien abduction-themed 5K, and a pet costume contest (there's one for humans, as well). It all culminates in the perennial favorite UFO Festival Parade, when a crowd of costume-clad believers (and maybe even actual extraterrestrials hiding in plain sight?) go marching around town.
The entire town gets involved, with vendors setting up booths around the area. "Local merchants have gotten behind it and the whole weekend turns into a party, which is great," says Chisholm. Shindigs and merchant fairs in and around the hotel are free to attend, while festival tickets start at $25 for presenters and especially dedicated guests can also buy a VIP pass that allows access to all festival events.
As for any real-life extraterrestrials planning to visit Earth for the big weekend, they are free to park their starships wherever space allows.